A "life long learner". This is how Katie Ann introduce herself… with good reason! We have been witnessed of her constant engagement on several #edtech events, a continued participation on social media dialogue and her involvement with her blogs 'Diary of a Techie Chick' and 'the Global Digital Digital Scrapbook'. Now it's the moment to ask her our questions. So exciting!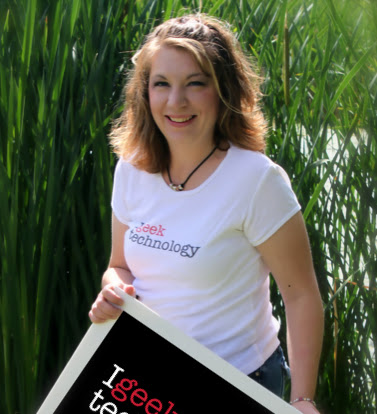 Katie Ann
Twitter:Â KatieAnn_76
Blog: www.diaryofatechiechick.com
Google+: +KatieAnn
Chromville. When did you realize that you wanted to be a teacher? 
When I started my college education I was in business.  It wasn't until I became a mother that I wanted to go into education.  I wanted to be my son's best 1st teacher.
Why must education work hand in hand with technology? 
For me they go hand in hand. Technology is just a tool that helps inspire, encourage, and gives students a voice in their own education.
Do you remember your first modern electronic device? 
In the 3rd my school received an Apple II computer, which sat in the library.  The librarian encouraged me to see what I could do with it.  I ended up creating the 1st data base of the books in the library, our very 1st digital card catalog.
What do you like about augmented reality?
I love how augmented realty gives you a different perspective and makes you think at a total different level.  When I 1st saw augmented reality I went on a quest to learn how to create it.
And about Chromville? Â 
Chromville brings engagement to my students that I had not had before.  I teach middle school students after I showed them Chromville they wanted to teach younger students all about the app and augmented reality.  We ended up hosting Tech Days where my students took the lead and taught 4, 5, & 6 year old students all about augmented reality.
How did you met us?
I stumbled across Chromville in my quest to learn more about augmented reality.
What issue does Chromville resolve? 
I haven't really had any issues.
What innovations would you like that be incorporated into Chromville? 
I want to be able to create my own scenes.
You attended the #ISTE2014, can you share with us your opinion about this huge educational event? 
It is a great place to connect with people from around the world.  Any of the large tech ed conferences would be a great place to promote and teach others about Chromville.
Is there any risk on introducing technology into education? 
With anything there is a risk.  I believe you just have to open the door and walk through it.  Some people are going to be negative while others are going to shout from the mountains how great it is.
Does schools and teachers have in mind the importance of refresh the tools and lessons?
Most do, you will come across those that will never change their tune.
Do you think that a new educational community is being developed independently of the official educational institutions? Is the first one more updated? 
Yes in education there are educational communities that give educators professional development beyond a university.  Some are online, some go into schools, and others hold training's or conferences.  They are both important but I do believe that continuing your education is very important no matter which one you decide to choose to use
Each year there are new generations that are more used to using technology all the time. Have the digital natives any advantage regarding us? 
Kids naturally have curiosity built into their genes, it is how they learn. You give them a tool and ask them to see what they can do with it you will be surprised at they discover.  Some adults kind of loose that curiosity we just have to remind them to play.
Which are the three best things about your profession? 
Connecting, sharing, and building relationships with others from around the world.
Teaching people of all ages to play, create, and to explore.
The chance for me to never stop learning.
How will education be  in 10 years? 
Depends where in the world you are.  Some places will be more and more like on-demand (online), get your knowledge when you want to.  Other places will be more blended were you see students connecting with a teacher or class a world away.  Ten years ago they didn't think we would have personal learning devices for every classroom yet every student.  It will be interesting to see were we end up when it computes to technology and education.
Describe your job in 140 characters. 
I teach 21st century skills using a variety of tools.