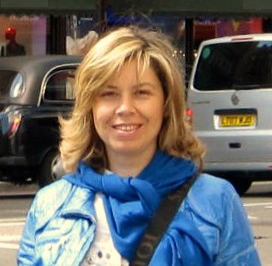 When did you realize that you wanted to be teacher?
Since I was a kid I have loved education. My model was the people who I had next to me and was working in the learning area. Some years later and thanks to my effort and my family support I got a job as a teacher.
Why must education work hand in hand with technology?
It's very important to live according with your time. We belongs a society which is experiencing a deep transformation thanks to technology. That's why we have to teach our students to use these tools.
Do you remember your first modern electronic device?
My first computer was a Conmodore64. It was the 80's. The pc was really nice: little, dark and very very difficult to handle. Programming was necessary to make it run and at that moment I had no technological knowledge enough to do it well.
What do you like about augmented reality? 
I like Augmented Reality because is magic. It catches student's attention and makes easier their learning. The possibility of bring characters to life or play a video through a picture or photo is incredible. It gets you hooked!
And what about Chromville?
I love Chromville because it allows you to create stories with the Chromers just like the fact that these characters have sound and can move. I think that the six Chromville´s worlds thing is a really good idea because encourages students to create their own stories on these different scenes.
Primary students are in the perfect age to develop their creativity and imagination. Besides that, they are self-sufficient enough for and the can working in teams and create their stories on the computer or tablet.
How did you meet us?
Thanks to Twitter, a tool which at this moment is an essential at my work. There was a tweet which took my attention. I researched a bit more and I met Chromville. I was excited to be contacted from you for doing an activity via Skype. This was my first time and it was amazing!
What issue does Chromville resolve?
Chromville allows us take a close look of storytelling in a funny and pleasant way. Once students create the stories they can bring their characters alive, record them or take pictures with their favorite characters. This is very rewarding! The two first prizes of Chromville were won by two of your students.
How have you lived these activities at your school?
I´m really glad with the experience. My colleagues liked it very much and the entire regions communication media have echoing them because we competed with worldwide schools. The think that I liked most is the support from my students families. They sent us message via email and on our blog. This makes we want to continue working with Chromville, using more coloring page and learning more about Augmented Reality.
What innovations would you like that being incorporated into Chromville?
Incorporate the voices of our students narrating their stories or include two characters in one coloring page and develop their dialogue. With regarding to their own drawings, it would be very interesting that there was an area where these creations come alive too.
How is your school adapting to the use of new technologies at class?
My school is playing a pioneering role in the use of new technologies at Spanish classrooms. We are a public center with an own technology project. Students have computers and tablets at class. Besides that, teachers are trained on this area and they rely on advice among all the school period.
What must be the role of parents?
The key is teaching on the use of new technologies. This will allow our students to handle all the challenges of modern society. Problems come when children use technology irresponsibly because of the lack of knowledge. Parents have to keeping an eye on their children when they use these devices at home. It´s important to encourage a responsible use of them.
Each year there are new generations that are more used to using technology all the time. Have the digital natives any advantage regarding us?
Digital devices are getting more intuitive and easier to use. Digital natives are like a fish in the water, using technology every day. In this context, families and schools must teach them how to use these gadgets in the right way.
Which are the best three things about your profession?
In the first place, I like the lifelong learning. I love keep me up with educational news, work with my students on new projects and take part on innovative experiences. Secondly, I select the relationship with my colleagues. We share knowledge, curiosity and hobbies, and we make up a great learning community. Last, the affection of my students and their enthusiasm when I suggest them new activities and they see how much they develops on their projects.
How will education being in 10 years? 
We have to work together in order to build a creative and educational global community full of experiences and emotional learning. Technology, emotions and creativity are keywords for education in 21st century. Global education means teaching for grow and develop personally and professionally in any place of the world. That is why we must be informed of tends and society needs.
Describe your job in 140 characters
A continuous source of knowledge which constantly changes. Research, innovation, creation and transmission are its essential pillars.